Good ol' ketchup!  America's condiment of choice for everything from fries to burgers to eggs.  What could be so bad about a product made out of tomatoes?!?!  Have you read the nutrition facts?  Lets take a quick look…
1. What's With The Corn Syrup?!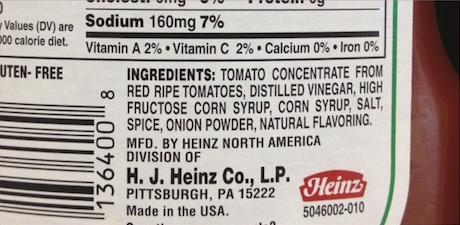 Ingredients lists are required to be written in the order from the ingredient that the product contains the most of to the one it contains the least of.  So, for example, Heinz Ketchup has more tomato concentrate from red ripe tomatoes than it does corn syrup (which, if it were true, would be a plus!).  You will get my cynicism in a minute…  Here's the full list of ingredients from highest to lowest amounts:
Tomato Concentrate From Red Ripe  Tomatoes
Distilled Vinegar
High Fructose Corn Syrup
Corn Syrup
Salt
Spice
Onion Powder
Natural Flavoring
Does anything strike you as odd about that list?  Why is corn syrup listed twice – as "high fructose corn syrup" and again as "corn syrup?"  Well that is most likely done for two reasons.  One, it tricks you into thinking that somehow "corn syrup" is healthier than "high fructose corn syrup."  And second, if they would combine the amount of both corn syrups into one ingredient, it may very well appear higher up on the list.  In fact, maybe the quantity of both corn syrups combined is greater than even the amount of tomato concentrate!
But we are just getting started… wait until you see what the nutrition facts reveal on the next page…
2. There's Absolutely NO Nutritional Value
Want to see something even more shocking? Look at this list of nutrition facts:
You are getting 0% of just about everything… except for some sodium and carbohydrates.  How is that even possible?  Don't tomatoes contain vitamins of some sort?  Very good question!  Lets look at the nutrition facts for actual raw tomatoes (which Wikipedia pulled from the USDA Database):
See, tomatoes actually contain lots of vitamins and mineral, especially vitamin C.  But ketchup contains almost no tomatoes, thus it has essentially no nutritional value. Zero. None.
Ready to throw out your bottle of Heniz yet?  Wait until you see the darkest secrets that are up next…
3. Heinz Can't Be Trusted!
Some companies actually care about consumers, while others are deceptive.  Unfortunately, Heinz falls under the second category.  There is even a lawsuit against Heinz over the fact that they claim their vinegar is "all natural" when it contains GMO corn products.  If a company lies about one of their products, why should we trust them about anything?  Fool me once, shame on you… fool me twice, shame on me!
4. Beware of Distilled Vinegar
While I use distilled vinegar mixed with water to clean just about everything in my house, it is actually considered too acidic for your body and can make your joints harden.  But distilled vinegar is the second ingredient in Heniz Ketchup!
So what do you think? Will you quit eating Heinz Ketchup? Please leave your thoughts in the comment section below and like Encapo's Facebook Page for more consumer alerts!